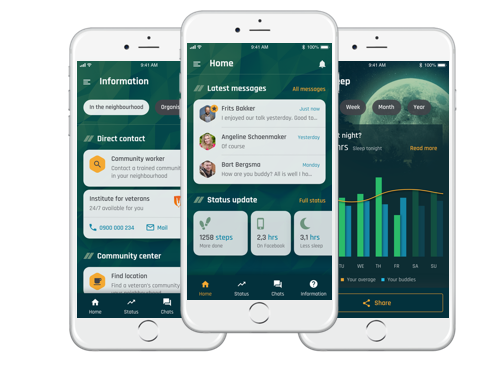 The Dutch version of Unit Victor is live!
Unit Victor is available for all Dutch veterans. We are not available yet in other countries. Are you curious to know when this app will be available for you? Sign up for our English newsletter.
What is Unit Victor all about?
Connection
Keep in touch with your comrades. Unit Victor provides a safe, private environment, only for veterans.
Find the comrades with whom you have served.

Create your own private group chat with your service buddies, in which you can share everything.

Become a Buddy-Plus of that comrade who can use a helping hand.
insight
Check your sleep pattern, your mobility and your phone usage in a clear way. These parameters are not random. They can give you more insight into your mental fitness.
Get insight into your sleep pattern

How (physically) active are you?

How do you use your mobile phone?

Help your fellow veterans, indirectly. By gathering all insights, everyone can compare their own patterns with the group averages
INFORMATIon
Find all the information that you, as a veteran, ever looked for
Which veteran organizations are there?

Find all services in your area.

Get all the news regarding veterans and Min Def

Get answers to frequently asked questions
About No Worries Company
Why?
No Worries Company is an innovative start-up, initiated by Hans, a veteran himself. The mission of No Worries Company is:
Every veteran deserves to live a life full of opportunities
how?
To realize this mission, No Worries Company builds digital solutions, tailored to veterans. We believe that the current digital revolution gives the opportunity to reach out to veterans with new, personalised products and services that fill in their hidden needs.
That's why No Worries Company uses technological innovations and scientific research to build solutions that fit seamlessly in veteran's daily life. With these digital technologies, No Worries Company bolsters the unique strenght of veterans and their comradeship. This is how the No Worries Company team commits to their mission, being a life full of opportunities for every veteran.
we believe in..
No Worries Company always aims for innovative solutions that truly add value to the daily life of veterans. To achieve this, we believe in..
Desirability: building relevant and attractive solutions for veterans by continuously engaging with users

Effectivity: building accurate and effective solutions that deliver on their promise, by initiating scientific research and working with specialists

Embeddedness: building integrated solutions that reach all who might need them by working closely with organisations for veterans

No guts, no glory: in everything we do, we aim to think big, start small and learn fast.